HAIHUA LW-31 Eco-friendly & Multi-functional Alkaline Degreasing Additive (Liquid)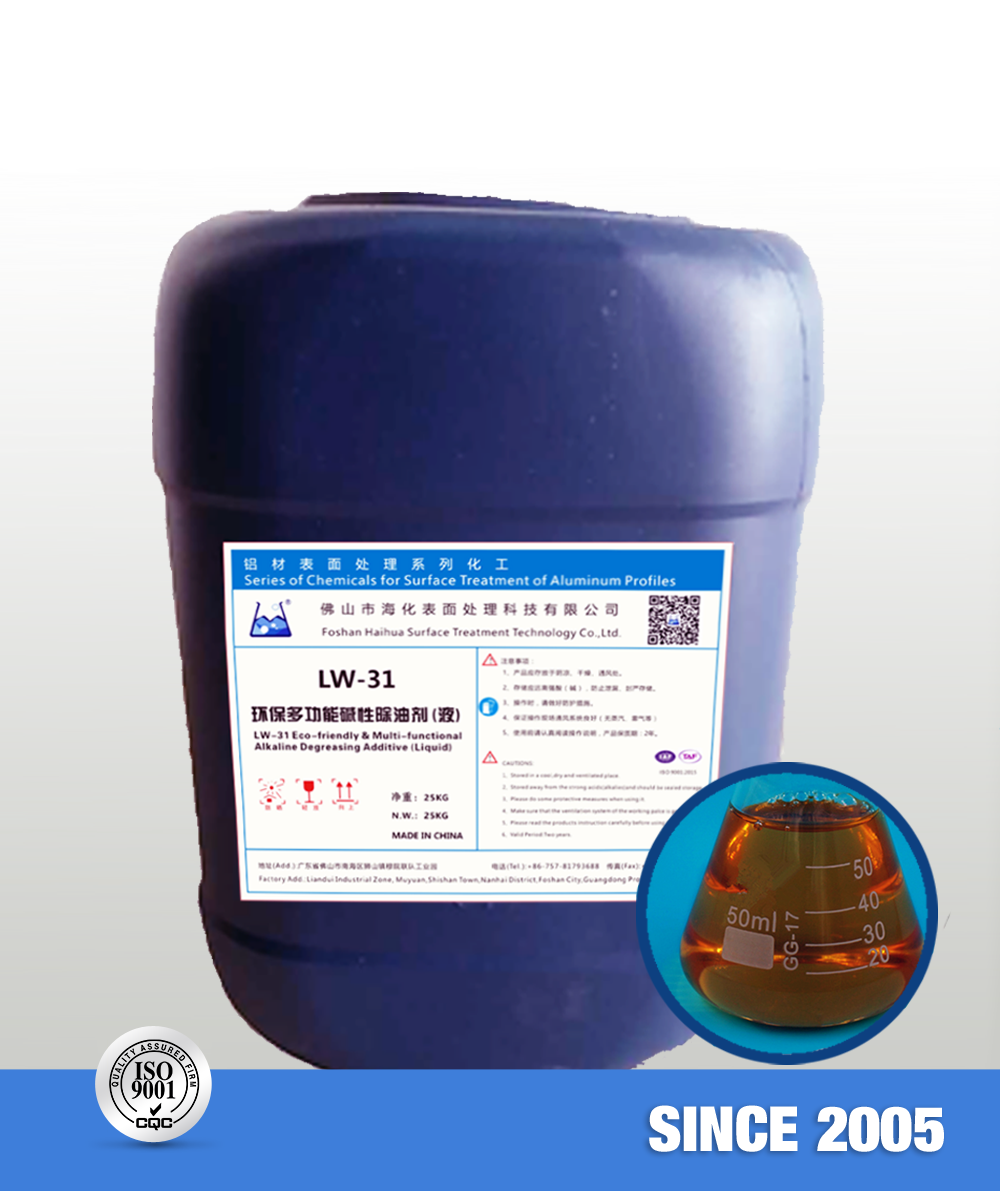 Product Introduction
LW-31 is a kind of colorless to reddish brown transparent liquid. This product is suitable for aluminum and its alloy powder coating pretreatment process. It can effectively remove the natural oxide film, oil stain and floating sand on the surface of sand-blasted aluminum profiles, so as to obtain a clean, uniform, delicate and soft metal surface.
Comparisons of LW-31 alkaline degreasing process with traditional alkaline etching

process:

Process

/

Items

Acidic Degreasing

LW-31 Alkaline degreasing

Eco-friendly

Fluorine containing, not environmental protection, harmful to the body

Fluoride-free, environmentally friendly
Waste Water Treatment

A large amount of acidic fluorine-containing wastewater is produced, and the amount of waste water produced per ton of aluminum is 1.5-2 tons.

No acidic waste water produced. On the contrary, the waste water can be used to neutralize the waste acid water produced by other processes which saves the cost of waste water treatment.

Workshop Environment

A large amount of acid mist during processing will not only deteriorate the working environment of production personnel, but also damage the workshop equipments, oxidation and electrophoresis process.

No acid mist or alkali mist is produced, and the corrosion to the equipment is light.
Bath Make-up:
Name
Quantity
Unit
LW-31
20
g/L
Water
Balance
Operating Conditions:
Name
Quantity
Unit

Temperature

20-36

℃

Time

3-6

min

Concentration

15-30

g/L

Solution Maintenance:
1.Analyze and detect the LW-31 concentration and etching amount every day, and detected regularly the alkali concentration and aluminum ion of the bath solution.
2.During normal production, replenish 3-4kg LW-31 for each ton of aluminum profile procession.
Packaging and Storage:
Package: Plastic barrel (25kg/barrel)
Storage: Suggested to store in cool, dry and well ventilated place; away from fire and heat source.