HAIHUA LW-14 Chromium-free Degreasing Additive (Liquid)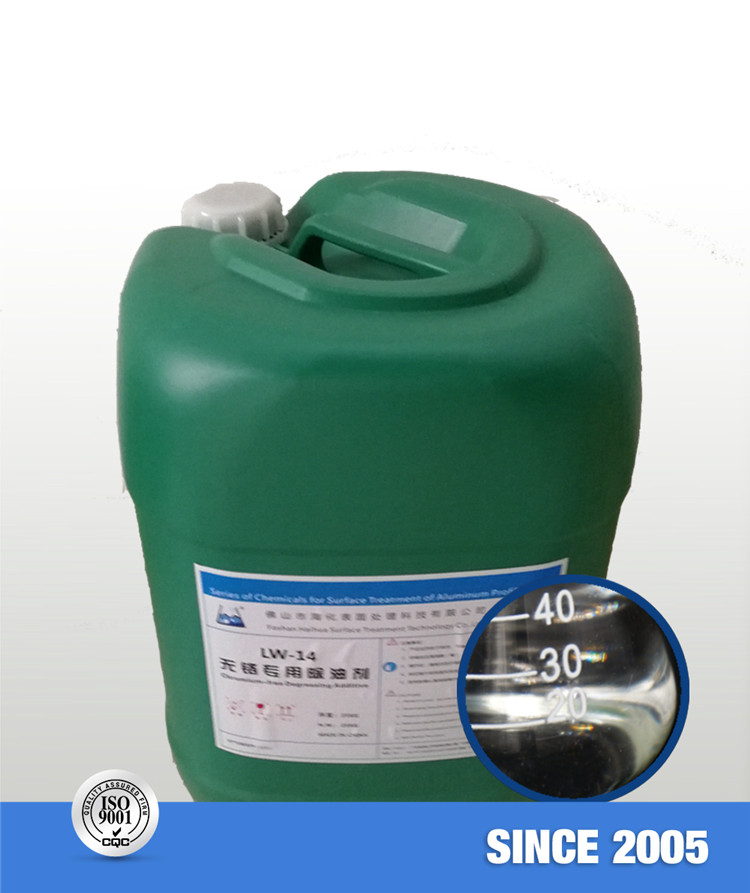 Product Introduction
LW-14 is a kind of colorless to yellowish transparent liquid containing powerful degreasing surface active agent, emulsifier and functional agent. LW-14 can efficiently remove aluminum surface grease, stains and natural oxidation film and results no harm to aluminum profiles. It is used for pre-treatment of aluminum profiles powder coating. It has the advantages of simple process and less aluminum consumption.
Bath Make-up:
Name
Quantity
Unit
LW-14
15-20
g/L
Water
Balance
Operating Conditions:
Name
Quantity
Unit
LW-14
15-30
g/L
Temperature
Room Temperature
Time
5-10min (Depends on the min surface conditions)
Solution Maintenance:
1、Analyze LW-14 concentration and etching amount every day, and replenish in time.

2、It is inevitable to bring in some insoluble substances such as mechanical debris and dust in the production process, so the bath solution should

be cleaned up in time.

3、Pay attention to the influence of temperature difference in winter and summer on etching amount and adjust the concentration in time to maintain the stability of etching amount.
Packaging and Storage:
Package: Plastic barrel (25kg/barrel)
Storage: Suggested to store in cool, dry and well ventilated place; away from fire and heat source.