HAIHUA LW-50 Medium Temperature Sealing Additive (Solid)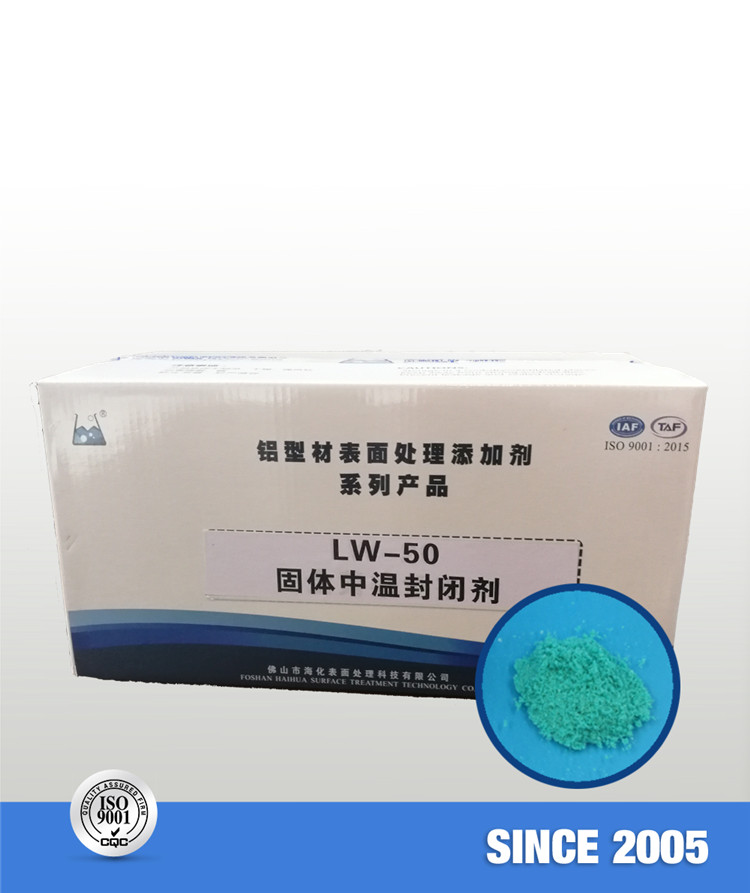 Product Introduction
LW-50 is a light green powder which is for aluminum profiles oxidation film sealing treatment.
Bath Make-up:
Name
Quantity
Unit
LW-50
7
g/L
Deionized Water
Balance
Operating Conditions:
Name
Quantity
Unit
Ni2+
1-1.6
g/L
PH
6±0.5
Temperature
60±5
℃
Time
1μm /min
Characteristics:
1) After sealing, no sealing bloom.
2) Improve the surface gloss of aluminum profiles.
3) Film can be sticked right after sealing process, and not glutinous.
4) Improve the aluminum profiles resistant to acid and alkali capacity and anti-secondary pollution capacity.
5) Solution is stable and easy to operate.
Solution Maintenance:
1) Analyze the concentration of Ni2+ everyday. Control it in the required range.
2) Analyze the PH everyday and control it in the required range. Adjust with dilute aqua ammoniae if pH is lower, and adjust with glacial acetic acid if pH is higher.
3) Control the water quality and PH (PH> 4.5) of rinsing bath before sealing to avoid excessive impurities into the sealing bath.
4) Clean up the impurities of the bath bottom regularly.
5) The heating device is recommended to install on the bath wall, which can avoid precipitations and impurities covering the device top to affect the heating effect. It is also good for clean up the bath bottom.
Packaging and Storage:
Package: Carton (30kg/carton), plastic woven bag (25kg/bag)
Storage: Suggested to store in cool, dry and well ventilated place; away from fire and heat source.