HAIHUA LW-22 Copper Salt Electrolytic Coloring Additive (Liquid)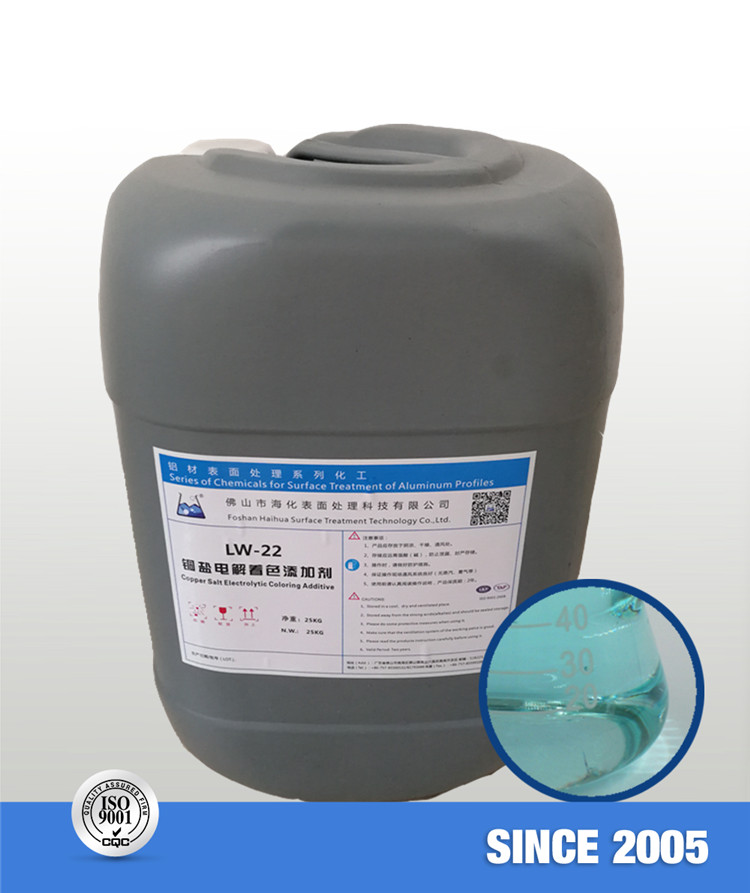 Product Introduction
LW-22 is a light blue clear liquid for aluminum profiles coloring after anodizing, especially for the high quality external wall decorative products.
Its advantages are as following:
1) Good dispersing and complexation ability.
2) It can effectively prevent from edge effect of copper salt coloring.
3) Good stability as well as good homogenization and reproducibility performance.
Bath Make-up:
Name
Quantity
Unit
Copper Sulfate (CuSO4·5H2O)
10-15
g/L

Sulphuric Acid Reagent

20
g/L
LW-22
40
g/L
Deionized Water
Balance
Operating Conditions:
Name
Quantity
Unit
Copper Sulfate (CuSO4·5H2O)
10-15
g/L
Sulphuric Acid (H2SO4)
18-25
Temperature
15-25
℃
Time
Depends on the depth of color
Voltage
12-16
V
Solution Maintenance:
1、 Analyze the concentration of copper sulfate and free sulfuric acid everyday, control it in the required range, and replenish in time.
2、The consumption of LW-22 is 5kg for each tone aluminum profile treatment, and the addition is according to the production capacity.
3、It's better to apply electrophoretic coating for sealing after coloring process. It can be advantageous for weatherability and lightfastness as well as achieving a brilliant color on the products.
4、It will be a little fading after electrophoresis process for coloring a light red color (The semi-sealing is required before electrophoresis). It is recommended to prepare two pieces of coloring samples for color-correction before and after the electrophoresis process. So the professional and skilled color-correction operator is required.
Packaging and Storage:
Package: Plastic barrel (25kg/barrel)

Storage: Suggested to store in cool, dry and well ventilated place; away from fire and heat source.