HAIHUA LW-07 Electrolytic Coloring Additive (Golden Yellow Color) (Liquid)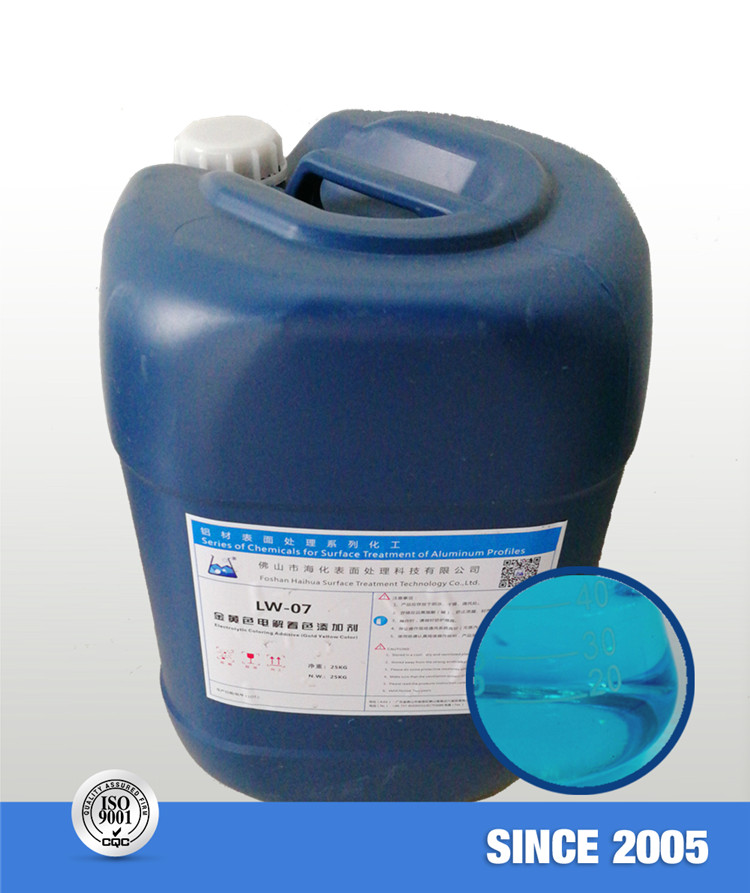 Product Introduction
LW-07 is a blue liquid. The additive can make the aluminum profile to acquire a golden yellow color with good lightfastness and weatherability.
Bath Make-up:
Name
Quantity
Unit
LW-07
40
g/L

Sulfuric Acid Reagent

15
g/L
Selenium Dioxide
10
g/L
Deionized Water
Balance
Operating Conditions:
Name
Quantity
Unit
Alternating Voltage
15-20
V
Temperature
20-25
℃
Time
Depends on the depth of color
Solution Maintenance:
1、Analyze the solution concentration of free sulfuric acid, selenium dioxide and LW-07. Replenish in time. Control the concentration in required range.

2、Cove

r

the solution bath to avoid

other baths'solution entering

when it is not in production.

3、L

W

-07 can only deepen in the process of colorin

g but

can not fade.

Packaging and Storage:
Package: Plastic barrel (25kg/barrel)
Storage: Suggested to store in cool, dry and well ventilated place; away from fire and heat source.