HAIHUA LW-05 Electrolytic Coloring Additive (Titanium Gold Color)(Liquid)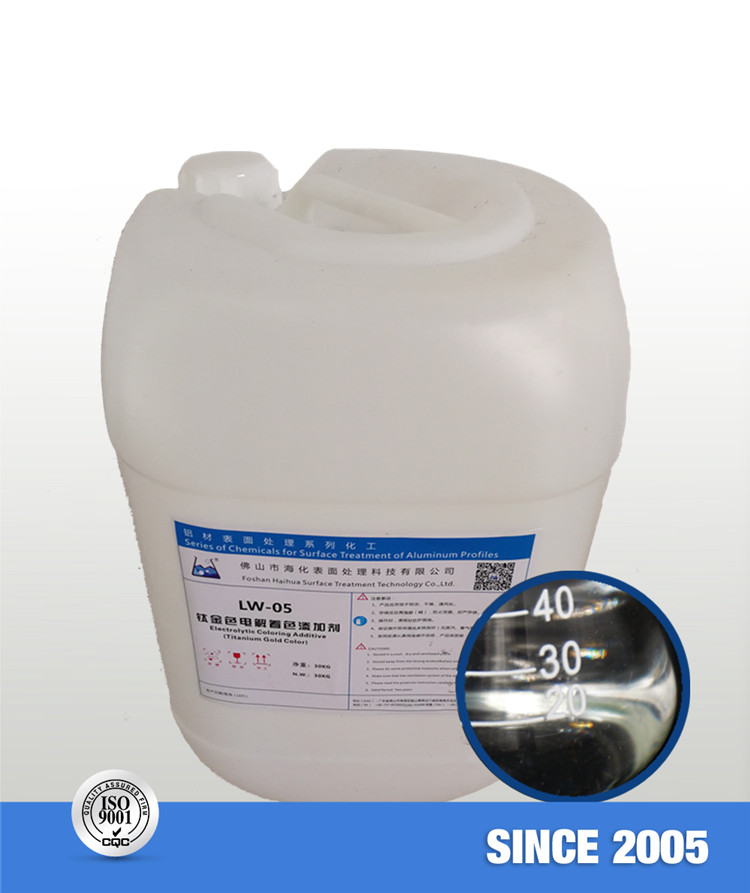 Product Introduction
LW-05 is a clear liquid for electrolytic coloring of aluminum profile after anodizing. Comparing to the ordinary champagne color, the additive has good performance to produce the light titanium color with little color difference and good abrasion resistance, corrosion resistance and weatherability. However, the broaching process is necessary for dark titanium color production, it is difficult to operate and control the sealing quality, also the cost is higher.
Bath Make-up:
Name
Quantity
Unit
LW-05
40
g/L

Sulphuric Acid Reagent

20
g/L
Deionized Water
Balance
Operating Conditions:
Name
Quantity
Unit
LW-05
35-45
g/L
Free Sulphuric Acid
20-35
g/L
Temperature
38-48
℃
Voltage
10-16
V
Time
Depends on the depth of color
Solution Maintenance:
1、Analyze the solution concentration of LW-05 and free sulphuric acid everyday and replenish in time.
2、The consumption of LW-05 is 4-7kg/T for light titanium color, and 7-10kg/T for dark titanium color.
3、During the coloring process LW-05 could only make the color deeper but not fade the color, so skilled workers are required.
Packaging and Storage:
Package: Plastic barrel (25kg/barrel)
Storage: Suggested to store in cool, dry and well ventilated place; away from fire and heat source.