HAIHUA LW-04 Electrolytic Coloring Additive (Golden Yellow Color) (Solid)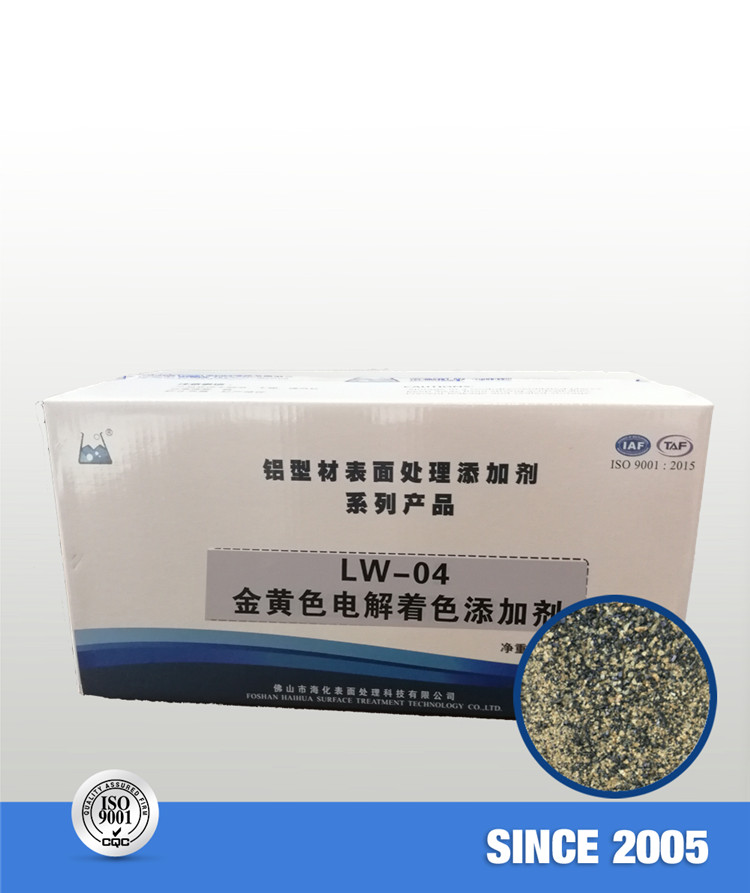 Product Introduction
LW-04 is a dark red crystal powder which can get stable golden color with good lightfastness and weatherability for aluminum profiles.
Bath Make-up:
Name
Quantity
Unit
LW-04
5
g/L

Sulphuric Acid Reagent

16
g/L
Deionized Water
Balance
Operating Conditions:
Name
Quantity
Unit
Alternating Voltage
8-12
V
Main Salt

3-10

g/L

Free Sulphuric Acid

16-20

g/L

Temperature
20-25
℃
Time
Depends on the depth of color
Solution Maintenance:
1、Analyze the concentration of potassium permanganate and Free sulphuric acid (H2SO4) everyday, replenish in time.
2、Add LW-04 and potassium permanganate with the scale of 1:1.
3、A small amount of precipitations during production will not influence using the coloring bath. And the precipitations should be cleaned regularly.
Packaging and Storage:
Package: Carton (30kg/ carton), plastic woven bag (25kg/bag)
Storage: Suggested to store in a cool, dry and well ventilated place; away from fire and heat source.