HAIHUA LW-04 Electrolytic Coloring Additive (Golden Yellow Color) (Solid)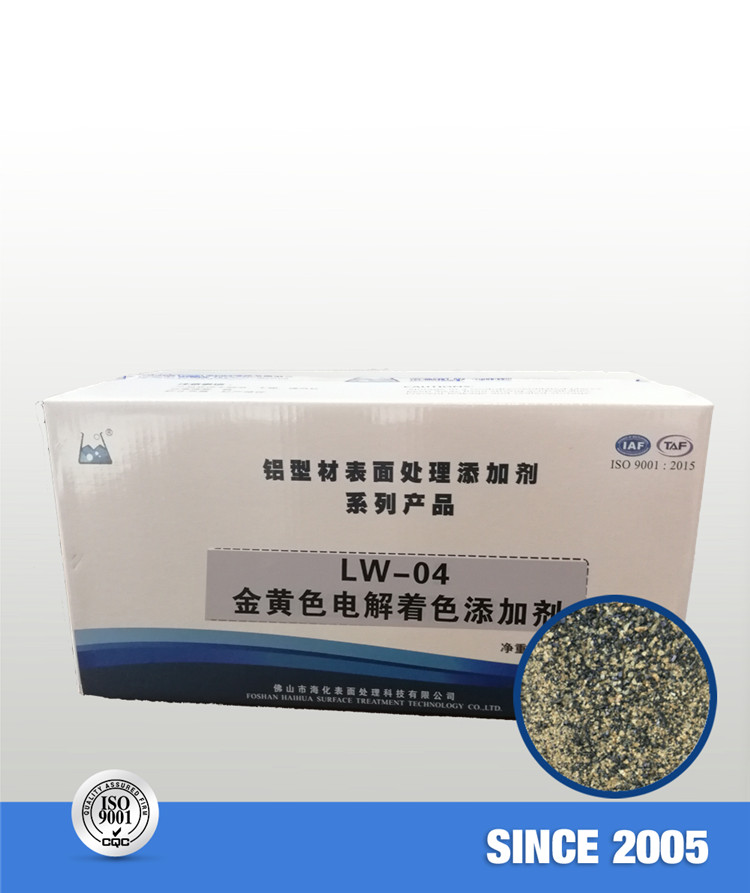 Product Introduction
LW-04 is a dark red crystal powder which can get stable golden color with good lightfastness and weatherability for aluminum profiles.
Bath Make-up:
Name
Quantity
Unit

Sulphuric Acid Reagent

16
g/L

LW-04

10
g/L
Deionized Water
Balance
Operating Conditions:
Name
Quantity
Unit
Alternating Voltage
8-12
V
Potassium permanganate

3-10

g/L

Free Sulphuric Acid

16-20

g/L

Temperature
20-25
℃
Time
Depends on the depth of color
Solution Maintenance:
1、Analyze the concentration of potassium permanganate and Free sulphuric acid(H2SO4) everyday, replenish in time.
2、Replenishment of LW-04 is 5kg per ton aluminum profile.
3、

A small amount of precipitations during production will not influence using the coloring bath. And the precipitations should be cleaned regularly.

4、Potassium permanganate is

decomposable, so it is suggested to install filtration system to improve the service life of bath solution and the quality of aluminum profile

.
Packaging and Storage:
Package: Carton (30kg/ carton), plastic woven bag (25kg/bag)
Storage: Suggested to store in a cool, dry and well ventilated place; away from fire and heat source.