HAIHUA LW-53 Sn Salt Electrolytic Coloring Additive (Solid)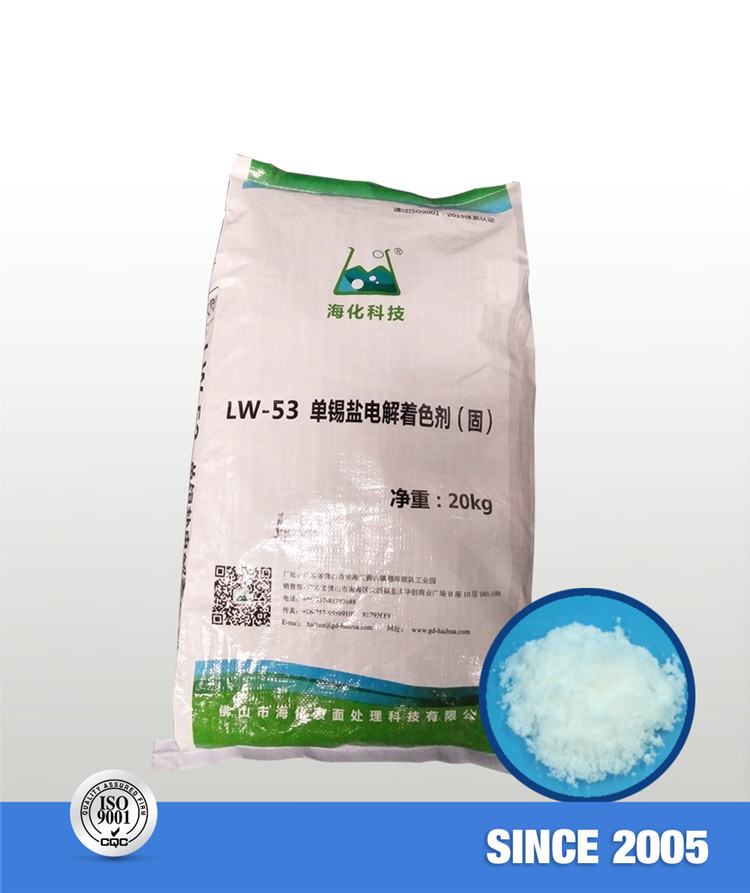 Product Introduction
LW-53 is a kind of creamy-white to grey-brown crystal for coloring to aluminum profile after anodizing with advantages of good comprehensive properties, solution stabilization, good homogenization and reproducibility. It can be dissolved easily in water and keep stable performance. But this product must avoid light storage.
Bath Make-up:
Name
Quantity
Unit
LW-53
20
g/L

Sulphuric Acid Reagent

16
g/L
Stannous Sulfate (SnSO4)
6~13
g/L (light color: 6-8 g/L, black: 8-13 g/L)
Deionized Water
Balance
Operating Conditions:
Name
Quantity
Unit

Sulphuric Acid (H2SO4)

17-23
g/L
SnSO4 (stannous sulfate)
6-15
g/L
Temperature
20±3
℃
Voltage
18±2
V
Time
Depends on the depth of color
Solution Maintenance:
1) Analyze the concentration of free sulphuric acid, stannous sulfate and total acid daily. Maintain the concentration of free sulphuric acid above 18g/L and total acid around 30g/L. To increase the stannous sulfate by 1 kg, add 1.5 kg of LW-53.
2) The pure water must be added slowly with stirring to prevent the hydrolysis of stannous sulfate and cause solution turbidity.
3) There will be white precipitations in long-term production. So the bath should be filtered and cleaned regularly.
Packaging and Storage:
Package: Plastic woven bag (20kg/bag)
Storage: Suggested to store in cool, dry and well ventilated place; away from fire and heat source.