HAIHUA LW-03 Sn Salt Electrolytic Coloring Additive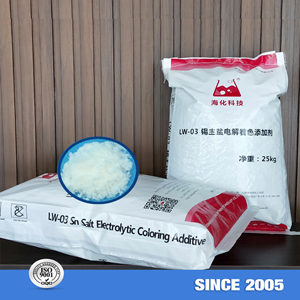 Product Introduction
LW-03 is a creamy-white to grey-brown powder for coloring to aluminum profile after anodizing. It has excellent comprehensive properties of stable bath solution, uniform coloring, good reproducibility, clear and full color. It is a solid powder of easy water-soluble and stable performance.
Bath Make-up:
Name
Quantity
Unit
LW-03
20
g/L
Nickel Sulfate (NiSO4.6H2O)
20
g/L
Stannous Sulfate (SnSO4)
6-10

g/L(lighe color:6g/L,dark color:10g/L)

Sulphuric Acid Reagent

16
g/L
Deionized Water
Balance
Operating Conditions:
Name
Quantity
Unit
Sulphuric Acid (H2SO4)
16-25
g/L
Stannous Sulfate (SnSO4)
6-15
g/L
Voltage
16-19
V
Temperature
18-25
℃
PH
0.5-1.2
Time
Depends on the depth of color

Solution Maintenance:

1、Analyze the concentration of free sulphuric acid, stannous sulfate, nickel sulfate and total

a

cid daily. Maintain the concentration of free sulphuric acid above 1

6

g/L and total acid around

4

0g/L. To increase the stannous sulfate by 1 kg, add 1.5 kg of LW-03.

2、The pure water

is suggested be added slowly with stirring to prevent the hydrolysis of stannous sulfate and cause solution turbidity.

3、There will be white precipitates in long-term production. So the bath should be filtered and cleaned regularly.
Packaging and Storage:
Package: Carton (30kg/ carton), plastic woven bag (25kg/bag)
Storage: Suggested to store in a cool, dry and well ventilated place; away from fire and heat source,and avoid light storage.