HAIHUA LW-33 Chromium-free Neutralizing Additive (Liquid)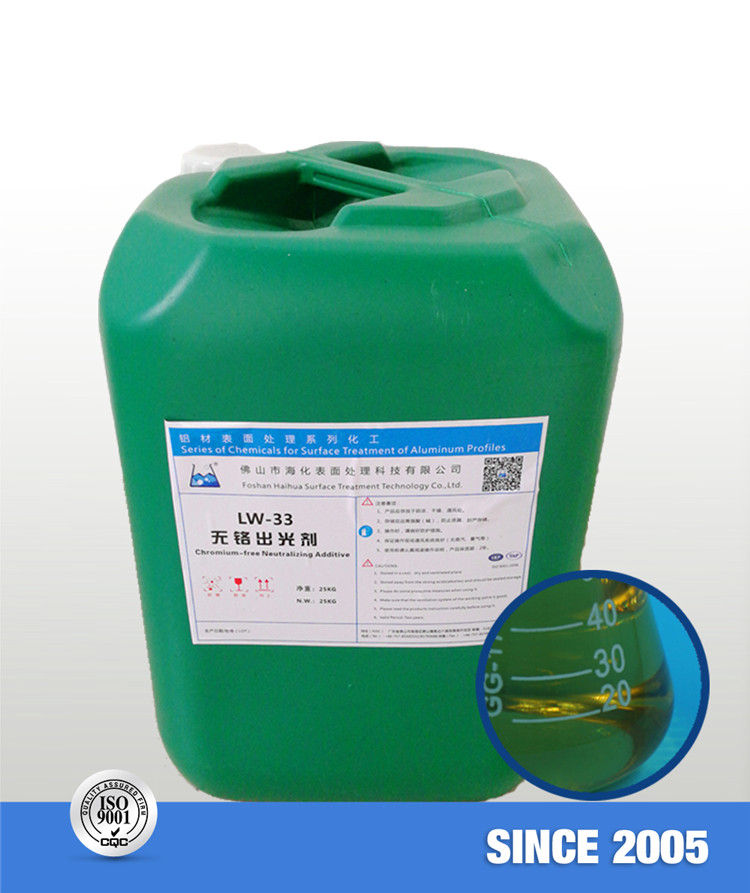 Product Introduction
LW-33 is mainly for aluminum profile surface ash removal and brightening after alkaline etching, polishing, alkaline washing, acid washing process, which achieves excellent similar performance comparing to the nitrate, sulphuric acid, chromium trioxide made.
Features:
1)LW-33 is

a kind of light yellow to reddish brown transparent liquid

, free of chromium and other toxic heavy metal ions, no corrosion no smell and very eco-friendly.

2)Fast ash removal speed and make very clean surface, what's more,

LW-33

can prevent the air corrosion and serious light losing and other comprehensive effects after the anodizing process.

3)LW-33 is a new environmental protection product, which not only can improve the operation environment for the workers, but also can ensure the production quality in the treatment process. The operation and addition of LW-33 is very simple and convenient.
4)LW-33 can be used singly and also can be used with sulfuric acid, please make flexible configuration according to the quality requirements of production.
Bath Make-up:
Name
Quantity
Unit
LW-33
20
g/L
Sulphuric Acid
50-160
g/L (Configure it according to production needs)
Water
Balance
Operating Conditions:
Name
Quantity
Unit
LW-33
20-50
g/L
Temperature
Room temperature
Time
1-3
min
Solution Maintenance:
1) Replenish LW-33 according to the consumption of 2-5kg per ton aluminum profiles.
2) Analyze those related data and adjust the bath solution in time according to our analytical method.
Packaging and Storage:
Package: Plastic barrel (25kg/barrel)
Storage: Suggested to store in cool, dry and well ventilated place; away from fire and heat source.