HAIHUA LW-01 Alkaline Etching Additive (Liquid)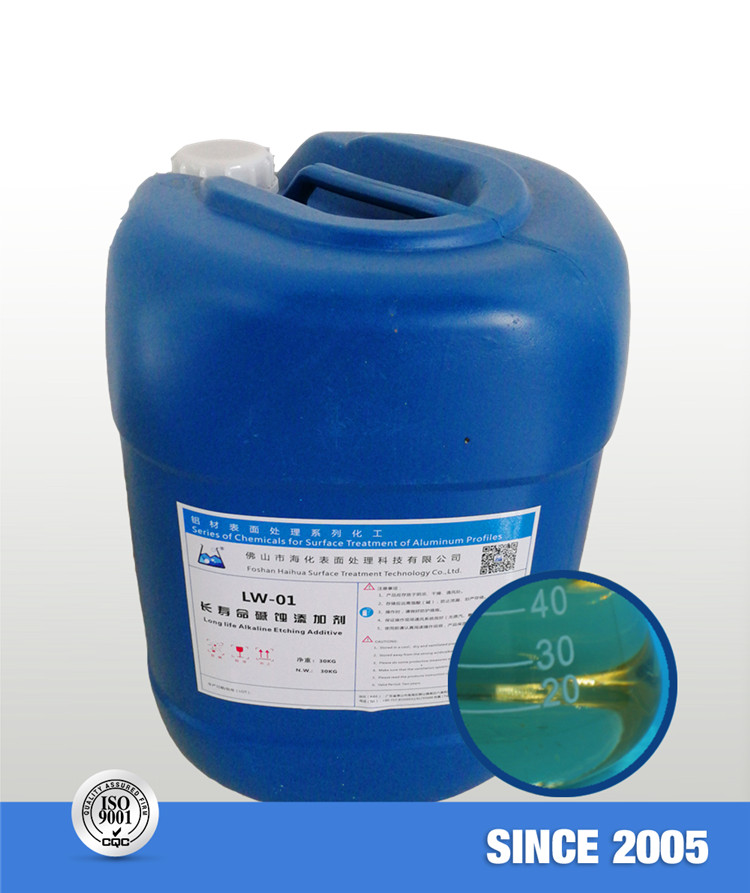 Product Introduction
LW-01 is a light yellow liquid with the solid content over 43%. It is used for avoiding the scale formation and the aluminium dissolution can be over 120g/L. The additive can improve the etching quality, decrease the aluminum loss and the consumption of alkali. It is eco-friendly.
Bath Make-up:
Name
Quantity
Unit
LW-01
20
g/L
Sodium Hydroxide (NaOH)
40
g/L
Water
Balance
Operating Conditions:
Name
Quantity
Unit
Temperature
40-65
℃
Time
1-25
min
Free alkali (Sodium Hydroxide)
40-70
g/L
Solution Maintenance:
1、Analyze the concentration of free alkali and aluminum ion everyday. It is recommended that the concentration of free alkali in a new make-up bath should be 40g/L. And the alkali concentration and the solution temperature are slowly increased according to the increasing of aluminum ion. LW-01 and alkali should be added with the scale of 1

/

6

-

1

/3

.
2、Normally, the color of the solution is dark-gray. It will be light-grey if lacking of alkali or LW-01, then need to replenish in time.
3、When the etching solution is not being used, keep the temperature around 40℃, or increase the concentration of sodium hydroxide (NaOH) and LW-01 for avoiding precipitations.
Packaging and Storage:
Package: Plastic barrel (25kg/barrel)
Storage: Suggested to store in a cool, dry and well ventilated place; away from fire and heat source.