HAIHUA LW-12 Acidic Sanding Additive (Solid)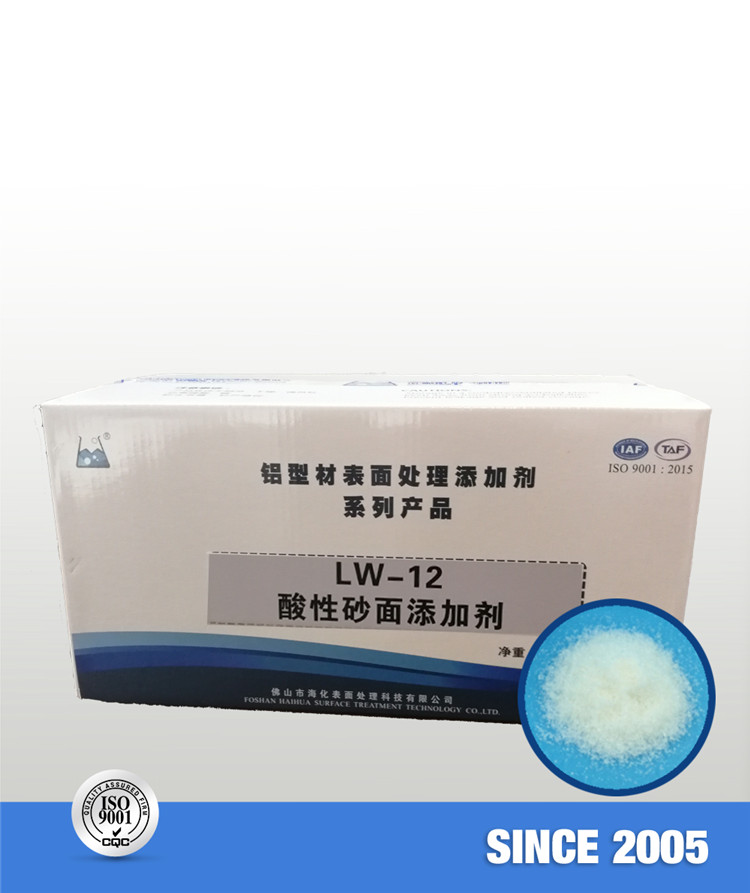 Product Introduction
LW-12 is a white crystal. This product can make aluminum profiles to acquire even and refine sanding surface. The additive has following advantages: simple equipments; fast sanding speed; little consume of aluminum. The product has not any influence to environment, but in the technic, ammonium acid fluoride is applied, so certain measures for environmental protection are required.
Bath Make-up:
Name
Quantity
Unit
LW-12
20
g/L
Ammonium Bifluoride
40
g/L
Water
Balance
Operating Conditions:
Name
Quantity
Unit
F-
20-35
g/L
Temperature
40±2
℃
Time
2-8
min
PH
2.8-3.5
Solution Maintenance:
1) Analyze the solution everyday, and replenish the ammonium bifluoride and LW-12 with the scale of 8:1.
2) As there will be some fluoride precipitations during production, the solution should be filtered regularly.
3) Adjust PH with hydrofluoric acid or ammonium fluoride.
Packaging and Storage:
Package: Carton (30kg/ carton)
Storage: Suggested to store in cool, dry and well ventilated place; away from fire and heat source.