HAIHUA LW-18 Efficient Wax Removing Additive (Liquid)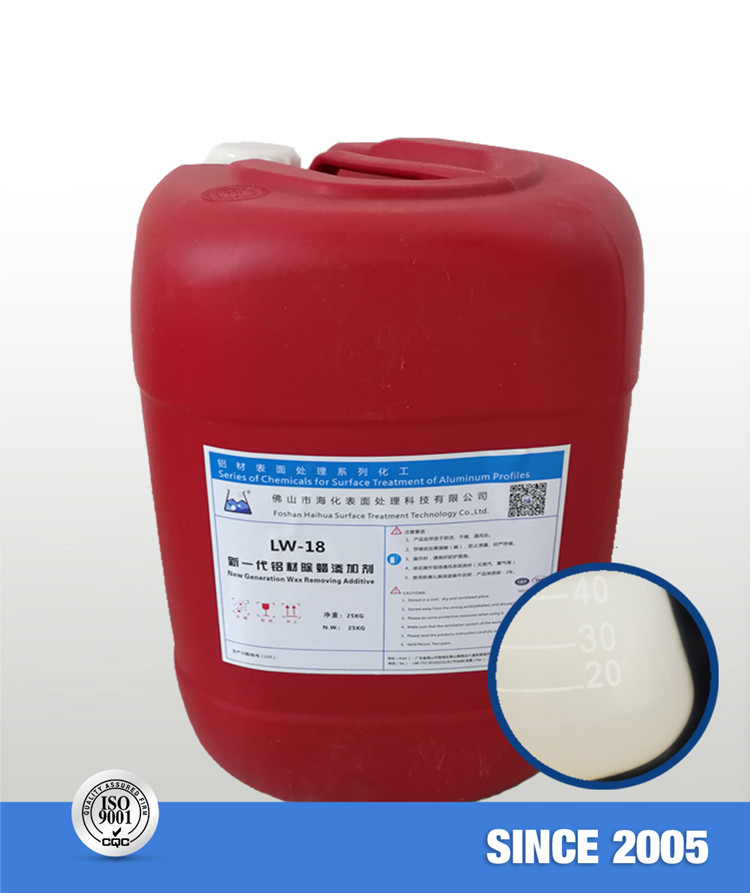 Product Introduction
LW-18 is a kind of milky white acid liquid which contains powerful degreasing and dewaxing surface active agent, emulsifier and functional agent. It can efficiently remove polishing paste, polishing wax, grease and natural oxidation film on aluminum profiles surface and results no harm to aluminum profiles. LW-18 is suitable for aluminum profiles degreasing and dewaxing treatment after mechanical polishing, it has advantages of low cost, little aluminum consumption and energy-saving.
Bath Make-up:
Name
Quantity
Unit
LW-18
50
g/L
Water
Balance
Operating Conditions:
Name
Quantity
Unit
LW-18
50-100
g/L
Temperature
50-70
℃
Time
6-10
min(Depends on the surface conditions)
Solution Maintenance:
1、 Analyze solution concentration of LW-18 and replenish in time to the required range.
2、Some insoluble substances like mechanical sundries and dust are unavoidable during production, so the solution should be cleaned regularly.
Characteristics and Advantages of LW-18:
1、LW-18 is a kind of acid liquid with sensitizer, even prolonging the time in solution, aluminum profiles will not be loss of gloss.
2、Rapid dewaxing speed: it needs just 6-10min to remove clearly for slight waxing surface, prolonging several minutes for some special stubborn polishing wax.
3、Long service life: it can be long term usage if cleaning the impurities in solution regularly.
4、Easy operation, and the consumption of LW-18 is about 4-6kg for each tone aluminum profiles treatment.
5、The aluminum profiles should be took the wax removing treatment right after mechanical polishing, which will achieve good performance of profiles wax removing.
Packaging and Storage:
Package: Plastic barrel (25kg/barrel)
Storage: Suggested to store in cool, dry and well ventilated place; away from fire and heat source.